Cheap broadband with LOTS of Data and no contract….does that even exist?
Well, if you asked me that 8-10 years ago, the answer to that would have been unfortunately "no".
If you wanted your broadband plan to have a decent data allowance and come with a reasonable price tag, you had to agree to 'marry' your Internet Service Provider for a period of anything between 12 and 24 months.
This is more than what some celebrity marriages last for and similar to those marriages, if you wanted to walk away, you had to give your 'ex-partner' (the ISP) a pound of flesh!
If you didn't want to commit and preferred to stay 'single and looking', you had to resign yourself to paying higher prices or exorbitant 'setup fees'.
I hate lock-in contracts with a PASSION! 
I strongly believe that your most important freedom you need to always defend as a consumer is your freedom to switch whenever a better deal comes along. 
Up until several years ago, if you wanted to avoid a lock-in contract, you often had to resign yourself to living with a lower data allowance than people who agreed (albeit reluctantly) to 'marry' their Internet Service Provider (a.k.a ISP).
Well, luckily for us all. This is no longer the case!
You can now easily get broadband plans that have no lock-in contract and yet still come with a decent data allowance and reasonable price tag.
You just need to know where to look! 🙂
Saying that, many of those still come with various sneaky costs such as connection fees, hardware fees and fees for exceeding your data allowance.
When it comes to ADSL plans, many also require you to 'bundle' your landline service with them or get 'Naked'. 😉
I don't like sneaky fees and don't like to make commitments of any kind as a consumer and I suggest you adopt the same approach.
Therefore, in this post I am going to cover the no-contract broadband plans which offer the best price as well as a decent data allowance.
When it comes to ADSL & NBN plans, the data allowance on offer is actually unlimited.
Let's get started.
The best no-contract ADSL plan
ADSL was one of the first high speed internet technologies to exist. It works by sharing your existing landline and using the frequencies which are not used for carrying voice.
In order use ADSL, you need a landline which is able to support the ADSL service.
Also, your home needs to be within a certain physical distance from your local phone exchange.
Most of the ADSL services offered in Australia now are what's called ADSL2+ which is simply a commercial name for the more recent standard they run on.
This standard enables the ADSL technology to deliver higher access speeds than the older standard (commonly referred to as ADSL1).
Up until a decade or so ago, the most common way for you to get the best prices on your ADSL connection was to get naked (although no removal of clothing items was required… 😉 ) .
However, since then there has been a significant shift away from this trend and we have also seen the prices of ADSL plans falling while the included data allowances have increased substantially.
Furthermore, the amount of plans offering unlimited data has increased exponentially!
So much so that it has become much more cost effective to get a plan with unlimited data rather than worrying about any excess usage charges, or that your internet access will die on you in the middle of your streaming binge.
The best value ADSL plan will depend on which of the following two groups you fall into:
The first (see below) is the BEST deal in Australia if you need to get ADSL Broadband setup at your place for the first time.
The second one is the BEST deal in Australia for your if you already have an existing ADSL broadband connection once the initial connection is up and running.
Belong Broadband
Belong is a wholly-owned subsidiary of none other than a 'small family business' called….Telstra!
To be honest with you, when I first started Spending Hacker, I never imagined that we will ever recommend on this site something coming from the 'big T' as their value proposition is usually quite poor.
However, this deal is definitely an exception and is hard to ignore!
Belong aims to deliver good value fixed broadband for the "price sensitive consumer" (yep, that's the wording they use in their own press kit) so Belong is basically the budget version of Telstra in the same manner that Jetstar is the budget version of Qantas.
Not only does Belong offer much better value plans than what you can get from Telstra and their supposedly 'premium' service, but all their plans have a no contract option.
But that's not what makes this deal special in itself.
The reason why this deal special is because if you just moved into a new place and need to get your ADSL broadband service connected for the first time, Belong offers you to best deal available in Australia to get ADSL broadband.
Let me explain:
If you moved to a new place or your existing place of residence doesn't currently have an active ADSL service, you will need two things to get yourself connected:
An active landline. Getting that will cost you anything between $59 and $299, depending on your particular circumstances (for example: whether the place ever had a landline connected before and how long ago, whether a technician needs to physically come to the premises etc).
Getting ADSL enabled on your landline. Assuming the local exchange has available ports, the initial setup can cost anything from $50 to $200. The exact price will depend on the broadband provider you choose to go with.
And this is where Belong offers something none of its competitors can:
If you are connecting to their ADSL2+ service, they waive the $59 standard phone line activation fee and, wait for it…. waive the $299 new landline installation fee which you normally get charged if your premises never had an active Telstra landline before and a technician from Telstra needs to physically come to your premises.
This is something no other Telco in Australia offers!
That's why this deal is so appealing if you are looking to get connected to ADSL for the first time (if you recently moved house for example).

The fact Belong are owned by Telstra, the company that owns the bulk of the landline infrastructure in Australia and therefore are the 'gatekeepers' of fixed broadband (at least until the NBN takes over that spot), probably has something to do with them agreeing to waive that fee… 😉
Telstra is basically using their unique position in the marketplace to get marketshare for their 'baby'.
All of Belong's plans include an option for a month to month plan (so that you are not locked-in) and you will never be slugged with extra usage charges for exceeding your data allowance.
As all plans come with an option for a no lock-in contract, you can always leave after a month if you're not happy and you get to keep the landline you got connected for FREE and which you can now use to get an ADSL broadband service from any other provider you wish (like this one for example).
Belong offers only two ADSL plans:
$60 p/m for 100GB download quota; or
$70 p/m for unlimited data. 
Both of these plans also include your landline line rental (Belong doesn't do Naked ADSL) and also come with unlimited local calls and calls to 13/1300/1800 numbers for no extra charge (assuming calling from your landline is still a thing for you).
Given that the cheapest standalone landline plan currently available in Australia is Telstra's own Homeline budget for $25.95 p/m, which doesn't include any calls, bundling with Belong gives you a better deal.
If you go with the 100GB plan and use up your entire data allowance, you have two options:
Do nothing. In that case, Belong will slow your connection speed to 256kpbs (the equivalent of ADSL1 speeds). That may suck but at least there are no extra usage charges and no risk of a 'bill shock'.
Switch to the unlimited plan. If you do so, your new data allowance will come into effect immediately but the higher monthly charge will only apply from the beginning of the next calendar month.
Belong is not available everywhere but you can easily check whether it is available where you live by typing in your landline number (if you have one already) or street address on their website.
There is a 'catch' though.
When you sign-up to Belong, they will charge you $60 for the modem they supply you (which can also be used with the NBN once it becomes available for you) unless you agree to a 12 month contract (bad idea!!).
Belong doesn't allow you to use your own modem and essentially forces you to get one from them.
This means that while Belong doesn't charge for connecting your landline or setting up your ADSL service, you will incur an upfront cost of $60 if you go with their month-to-month option.
Still, if you are in a situation where you would otherwise need to pay $125 or even $299 to get your landline connected, this is still cheaper!
The modem you'll get from Belong comes fully pre-configured with your account details and the required ADSL settings so it's a simple case of plug-and-play.
The video below outlines in real-time the setup process from your end. It's just over 3 minutes long so that's basically how long it should take.
If you don't want to pay $60 for the Belong modem then you do have an option to go on a 12 month lock-in contract.
If you choose to do that, Belong will offer you the following two 'sweeteners':
You will get the modem free of charge (including express delivery by courier); and
$10 p/m discount on your bill if you get the plan with unlimited data or $5 p/m discount if you get the plan with the 100GB data allowance.
Whether that is enough of an inducement to lock yourself in for a year is a decision you need to make yourself but personally, I am not keen!
Keep in mind that if you do choose to go with the 12 month option and then decide to leave before your contract term is up, you will need to pay a penalty of $20 p/m for each month left in your 12 month contract.
Great deal for them…but not so much for you!
Remember:
Being locked-in as a consumer is never (ever!) a good idea.
You should instead be a 'promiscuous consumer' in order to secure the absolute best deal every time! 
To get started, head over to the Belong website to see if they service your address.
Spintel
If you already have an active landline and ADSL connection, you might want to consider looking at 'greener pastures' to get yourself more data for the same or even less monthly cost.
This is "Spend Less and Get More" by definition! 🙂
Prices start at $54.95 per month in metropolitan areas which is UNBEATABLE given you get:
 unlimited data; 
no lock-in contract; and
no broadband setup fee
Better yet, Spintel does not force you to buy a modem from them!
You are more than welcome to use any existing one you already have and they even provide setup instructions for many of them.
If you think you don't need unlimited data and can manage with a 500GB allowance instead, you can save a further $5 p/m.
While Spintel's reviews online leave a lot to be desired, we surveyed  our members before making this recommendation and all of the couple of dozen of them who are currently with Spintel, had nothing but good things to say about them.
Finally, Spintel have also won many awards from consumer magazines like Money Magazine, BRW and PC User.
Bottom line, there is no contract and you don't even pay any setup/installation fees so even if you decide to switch after a month, you will not be out of pocket in any way.
The best no-contract NBN plan
The National Broadband Network (NBN) is using technologies such as fibre optic and
satellite and is supposed to offer much higher speeds than what is available on copper lines or cable.
(The reality is quite different so far unfortunately).
The NBN is owned and operated by the government-owned enterprise, NBN Co.
They are the ones responsible for rolling out and maintaining the infrastructure, including connecting individual homes to it.
The NBN has widely been regarded by global experts as one of the most fragmented and
difficult to maintain broadband networks in the world due to the federal government's decision to use what's called a Multi-technology Mix (a.k.a MTM).
MTM means that every household in Australia will be connected to the NBN using one of six different technologies (four for fixed line and two for fixed wireless).
You don't get a say what technology the NBN will use to connect your house (unless you are willing to fork out some big bucks!) but generally it will be one of the four fixed line technologies, if you're in a metro area or major regional centre, and one of the two fixed wireless technologies if you're in a rural area.
The technology used to connect your house to the NBN will be a key factor in determining the maximum connection speed you'll be able to achieve.
It's important you understand that switching to the NBN is mandatory and you must switch to it eventually, even if you're perfectly happy with your current ADSL or Cable service.
When the NBN becomes available at your location, you will get a letter in the mail from NBN Co. advising you that you are now "ready for service" and have up to 18 months to switch from your current ADSL or cable plan to an NBN plan.
After those 18 months are up, whatever fixed broadband infrastructure you had before the NBN will get decommissioned and if you didn't sign-up for an NBN plan by then, your existing fixed broadband service, as well as your landline, will stop working.
NBN Co itself does not sell its services directly to households. Instead, they sell access to internet companies on wholesale basis and these companies then sell NBN plans to us customers.
Here is a short ad from NBN Co. which explains how this process works:
With NBN plans, there is another differentiating factor for each plan in addition to the amount of included data and whether there is a lock-in contract or not:
the maximum connection speed.
The NBN is theoretically able to support speeds of up to 100 Megabits per second (depending on the technology NBN Co. used to connect your house).
However, if you want that kind of speed (assuming you could even get it), you have to pay top dollar for the privilege.
You could often save a fair bit by opting for the lower maximum speeds of 50, 25 or, provided you don't do much video streaming, even 12 Megabits per second (which is on-par with a decent ADSL2+ connection).
Because of the different technologies used to connect people to the NBN, there are huge differences between the maximum speeds available to different people.
Furthermore, it is often hard to tell what connection speed your NBN connection will achieve. This is especially the case during the busy evening period when everyone is using the internet for activities which require high bandwidth such as video streaming.
The maximum connection speed depends on the particular technology used to connect you to the NBN (known by cryptic names such as FttP, FttB, FttN and HFC) but also on the amount of bandwidth (known as CVC) your provider has purchased from NBN Co.
What's important for you to understand is that in many cases it's impossible for you to know for sure whether you'll be able to achieve the connection speeds you are hoping for.
That's why you should never ever (ever!) buy an NBN plan with a lock-in contract!
Australia's consumer watchdog the ACCC has introduced a new labelling system for NBN plan speeds and that should hopefully help clear this mess.
However, your best protection as a consumer is still the same: do NOT lock yourself in!
Instead, go with this provider: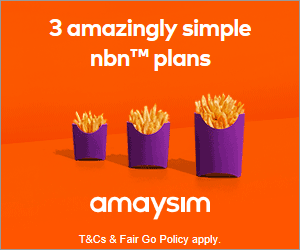 Amaysim originally started as mobile phone provider running on the Optus Network but started offering NBN plans after it bought broadband provider AusBBS in 2016.
Following their acquisition of AusBBS, Amaysim announced that they will invest significant amounts of money to ensure decent download speeds are available for their NBN customers.
They said they'll achieve that by building their own direct links to NBNs Points-Of-Interconnect.
If you want to understand what this means exactly, you can read this explanation but keep in mind that it does get a bit technical and 'dry'.
What it means in simple terms is that by doing this, Amaysim's NBN Service should mean a less congested network and therefore, better speeds!
Amaysim offers three plans and all of them come with:
Unlimited Data;

No setup fees; and

No lock-in contract (so you can switch between plans or to a different provider anytime!)
The only difference between the plans is the actual speed you'll achieve during the busy evening periods.
After a very stern warning from the ACCC to all providers to make sure their NBN plans show the actual speeds consumers can expect during peak usage time, Amaysim changed their advertising so that it follows ACCC's advice to the letter (which is what all providers should be doing really!):
The "basic speed" will give you average evening speeds of 10 Mbps (enough for basic web browsing, email, social media and streaming non-HD video) and cost you $60 p/m.

The "Standard plus speed" will give you average evening speeds of 42 Mbps (suitable for a household of 2-4 people who want to stream video in HD) and cost you $70 p/m.

The "premium evening speed" will give you average evening speeds of 78 Mbps (suitable for households of more than 4 people or those who want to stream video in 4K definition) and cost you $90 p/m.
If you currently have a landline and wish to keep it, it will have to be moved across to the NBN.
However, you need to understand that landlines use a different technology on the NBN than what they used in the pre-NBN days. That technology is called VoIP (if you must know) and the most important difference with this technology for most people is that your landline will not work if the power goes out.
This is important to keep in mind if you intend to rely on your landline to make or receive phone calls during a blackout.
It also means that if you have a security alarm or medical call button, it may no longer work with a landline running on the NBN so make sure you ask your provider!
Because of the 'stripped down' functionality landlines have over the NBN and also because most Aussies no longer use landlines to make and receive calls, some providers decided they will not even bother offering landline services over the NBN.
Amaysim is one of these providers who do NOT offer landlines over the NBN.
Therefore, if you absolutely must keep your landline after switching to the NBN, I suggest you check out a mob called Tangerine Telecom which offer the best value on 'NBN Bundles' (i.e. NBN plans that include both data and a landline service).
Like Amaysim, all their plans come with free setup, unlimited data and no lock-in contract (but do cost a bit more).
The best no-contract Mobile Broadband plan
Mobile Broadband is usually your only option if you can't get ADSL where you live and the NBN hasn't arrived there yet.
It's also your only alternative if the NBN has already arrived but you're not keen on it.
This is because providers are not allowed to sell ADSL to new customers once an area is declared as "ready for service" by NBN Co.
Also, as already mentioned above, anyone who is already on ADSL (or Cable) will lose access 18 months after an area is declared "ready for service" if they haven't switched to the NBN by then.
If you can't get ADSL or NBN, not happy with the speeds you're getting (because you are on an FttN connection for example) or simply don't like the idea of being told what to do, Mobile Broadband is the way to go.
Mobile Broadband is also a great option for people who are on the move a lot or renting.
The good news is that the prices for mobile broadband have gone down a LOT (if you know where to look) while speed and data allowances have increased quite substantially as well.
So, if you plan to use mobile broadband as your primary means to access the internet (and provided Optus has decent coverage where you live), your best option is:
Ovo is an innovative Aussie mobile provider running on the Optus network.
They offer prepaid phone plans which are pretty good value but where they really shine is in their  prepaid mobile broadband offering.
They have a very switched on CEO who is aiming to position them as a credible alternative to the NBN.
Similar to what the big telcos have done, Ovo has also signed exclusive content partnerships with various sporting associations which allow Ovo customers to stream competitions and other content from these sport codes without using their data allowance.
Here is an example of one of those partnerships:
Other exclusive partnerships Ovo has are with Gymnastics Australia and the Australian Water Polo association.
The latest partnerships Ovo managed to secure are with the Australian Esports League (If you are into gaming, you would no doubt appreciate that this is kind of a big deal, especially given Ovo is the first telco to secure such partnership!) and the Brumbies Rugby club with negotiations already underway with other Rugby Union clubs.
All Content from Ovo's partners is available data-free to all their customers through the Ovo Play website and mobile apps.
As far as download speeds and that all important 'ping' (especially if you're a gamer!), here is a speed test done with their service late last year.
I'll let you be the judge for yourself… 😉
While it's no doubt very impressive, please keep in mind that the test was conducted very close to the CBD of a capital city (about 10 Km out) and therefore your mileage may vary.
Personally, I was able to achieve speeds of around 45-60Mbps on the Gold Coast which I think can give most NBN plans a decent run for their money.
The only thing that is a bit of a bummer with Mobile Broadband is the fact that data allowances are a lot smaller than what you'd get with an ADSL or NBN plan for the same price and are definitely not unlimited at this stage (even though Ovo's CEO reckons we might start seeing unlimited data on 4G mobile broadband plans as soon as early 2019 with the roll-out of 5G services).
Ok, let's talk prices, shall we?
$70 p/m will get you a data allowance of 100GB;

$90 p/m will get you a data allowance of 150GB ;and

$120 p/m will get you a data allowance of 250GB.
While this is no doubt more expensive than the unlimited ADSL and NBN plans I mentioned previously in this post, I think you'll agree that it's a pretty sweet deal considering:
the fact there is ZERO risk for a 'bill shock' (it's prepaid!);
the speed is pretty decent;
there is heaps of content available for you to stream without using your data allowance; and
you can take this connection anywhere Optus has coverage.
If you know of any other mobile broadband plan which offers all of the above as well as a no lock-in contract, I'd love to hear about it. 🙂